NASA Data Challenge
In this challenge, you will be able to process real NASA astronomical image data. Submit your processed images to the challenge, and your work may be selected as a standout entry to receive feedback from NASA scientists!
Follow the instructions for each of the three steps below. First you will choose one of NASA's images of , then you will create your own image using the JS9-4L image-processing tool, and finally you'll submit your processed image to the NASA Data Challenge.
Step 1: Choose Your Image
Navigate to the Challenge Edition of JS9-4L web application.

Take the Guided Tour of the JS9-4L image processor if you have never used it before.

Click on the Challenge Images dropdown in the JS9-4L navigation bar.
Choose from any of the NASA images of in the Challenge Images list.

The image data was collected by different NASA missions, and represents different wavelengths of light.

Watch the expert videos below to learn more about through each of the different wavelengths of light included in the Challenge Images list.
Start processing your image data by following the instructions in Step 2.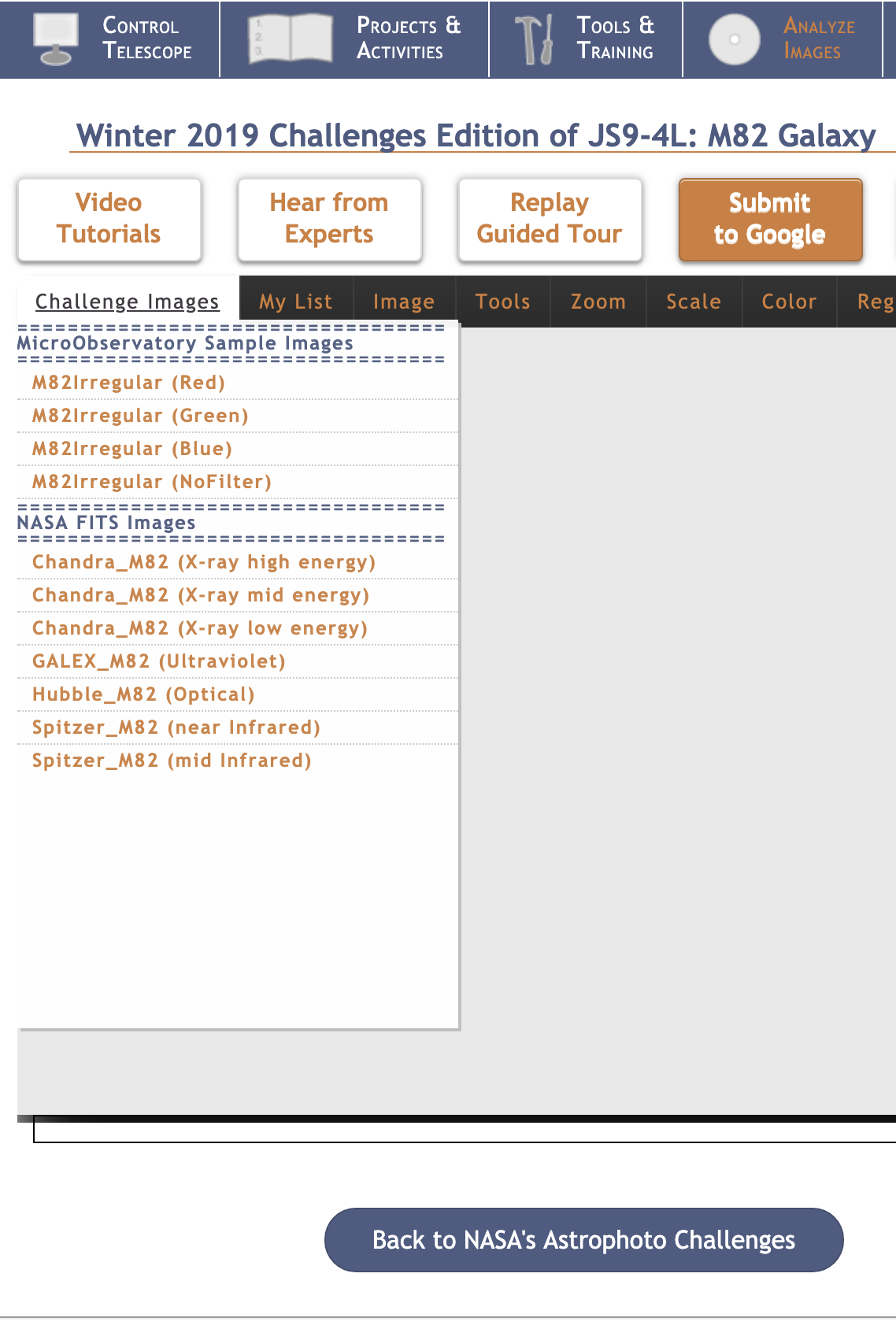 Step 2: Create Your Image
You should see your image of open in the JS9-4L image processor.
Use the tools included with the JS9-4L processor to enhance your image. Get creative!

If you aren't sure how to use the processing tools of JS9-4L, check out the

video tutorials

below.

When you're done, save your image to your device as either a JPEG or PNG file.

Be careful not to save as a FITS file. FITS format won't preserve all the processing that you've done.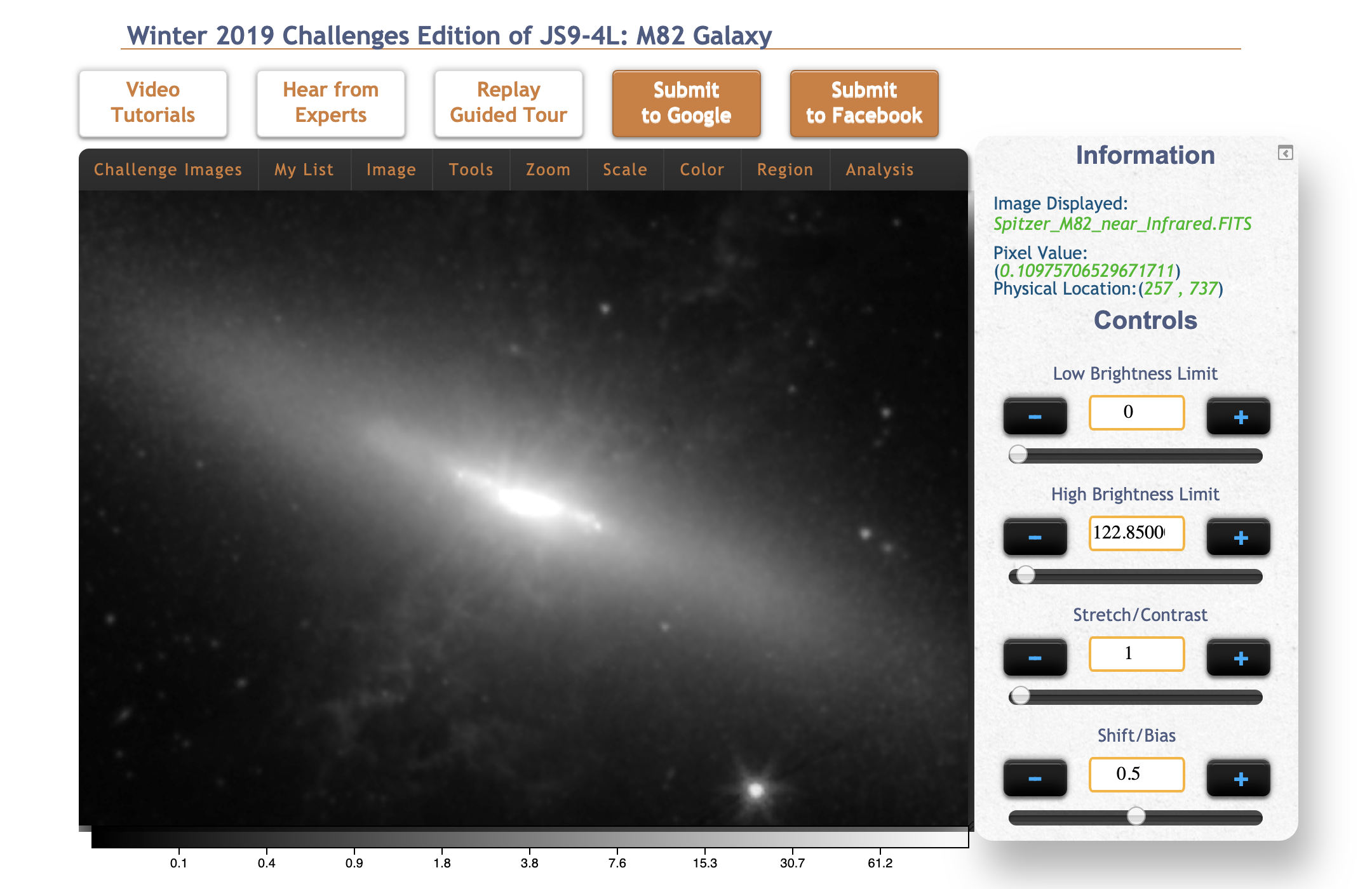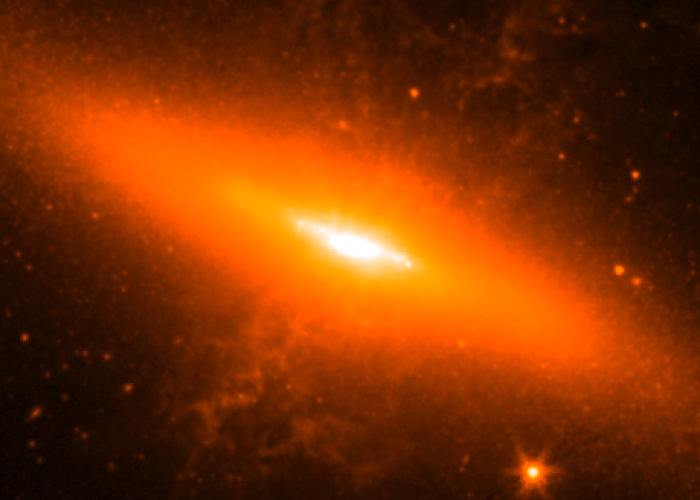 Still not sure what to do?
Watch the following tutorials for more detailed instructions:
Find other useful tutorials on the Tools & Training page.
Step 3: Submit Your Image
Make sure you've already processed an image of . If you haven't, go back to Step 1.
In order to enter the NASA Data Challenge, you will neeed:

• Your self-processed NASA image of
• A written description of how you processed your image

Submit your images to enter the NASA Data Challenge.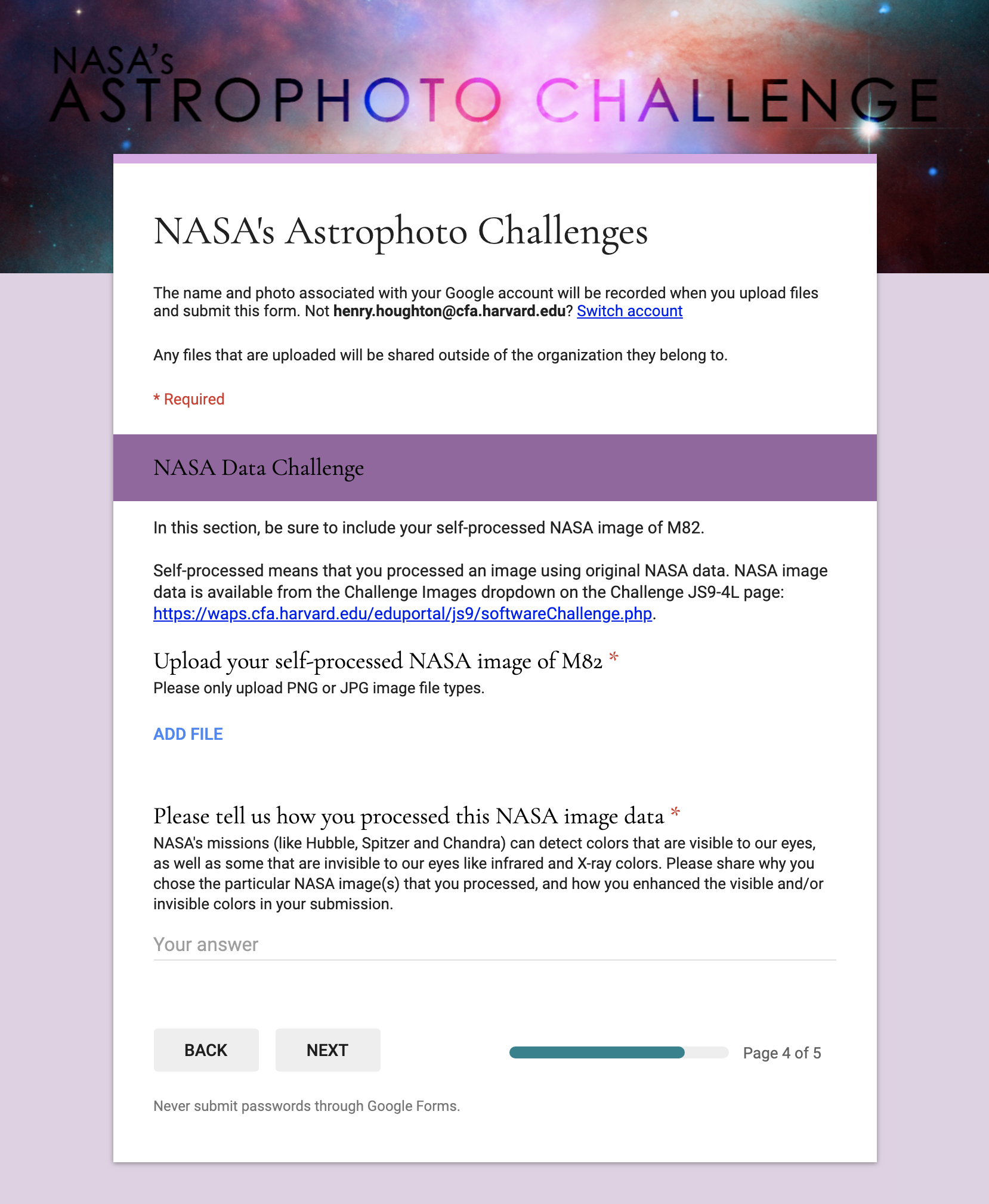 We highlight a number of standout entries from each of the past seasons of NASA's Astrophoto Challenges. Click through the image thumbnails below to read expert feedback to participants from NASA scientists.
NASA Data
Challenge
Choose from past seasons of the MicroObservatory Challenge below.
When does this season end?
The season will end on .
After the season ends, we will review all submissions to NASA's Astrophoto Challenges, and will post standout entries on the Challenge pages.
What about past seasons?
You can still work with NASA data from past Challenges! Head to the Challenges Archive of JS9-4L, where you will find NASA image files among the Archived Images for all of the past seasons.
Want to see what others have done with image data? Check out standout entries from past Challenges on the MicroObservatory Challenge and NASA Data Challenge pages.